Introducing Rialto, a WordPress block theme designed to revolutionize your eCommerce experience! Seamlessly integrate WooCommerce and unlock the power of multi-vendor capabilities with the free Dokan plugin. Rialto empowers you to create a bustling online marketplace effortlessly. This cutting-edge theme boasts a clean, modern design, accentuated by bold and vibrant color highlights, ensuring your website stands out from the competition.
Search Focused Navigation
Rialto's search-focused header and intuitive product category navigation make it a breeze for your customers to find exactly what they're looking for. The prominent search bar and well-organized categories ensure a smooth and efficient browsing experience, minimizing frustration and maximizing conversions. With Rialto, you can rest assured that your customers will effortlessly navigate your store, resulting in a satisfying shopping journey that keeps them coming back for more.
Home Page Patterns
Rialto comes with a selection of pre-designed patterns, enabling you to effortlessly recreate the captivating layouts of the home page. These versatile patterns provide you with a foundation to build upon, allowing you to customize your online store while maintaining a consistent, professional look. With Rialto, designing an engaging and visually-appealing home page has never been easier!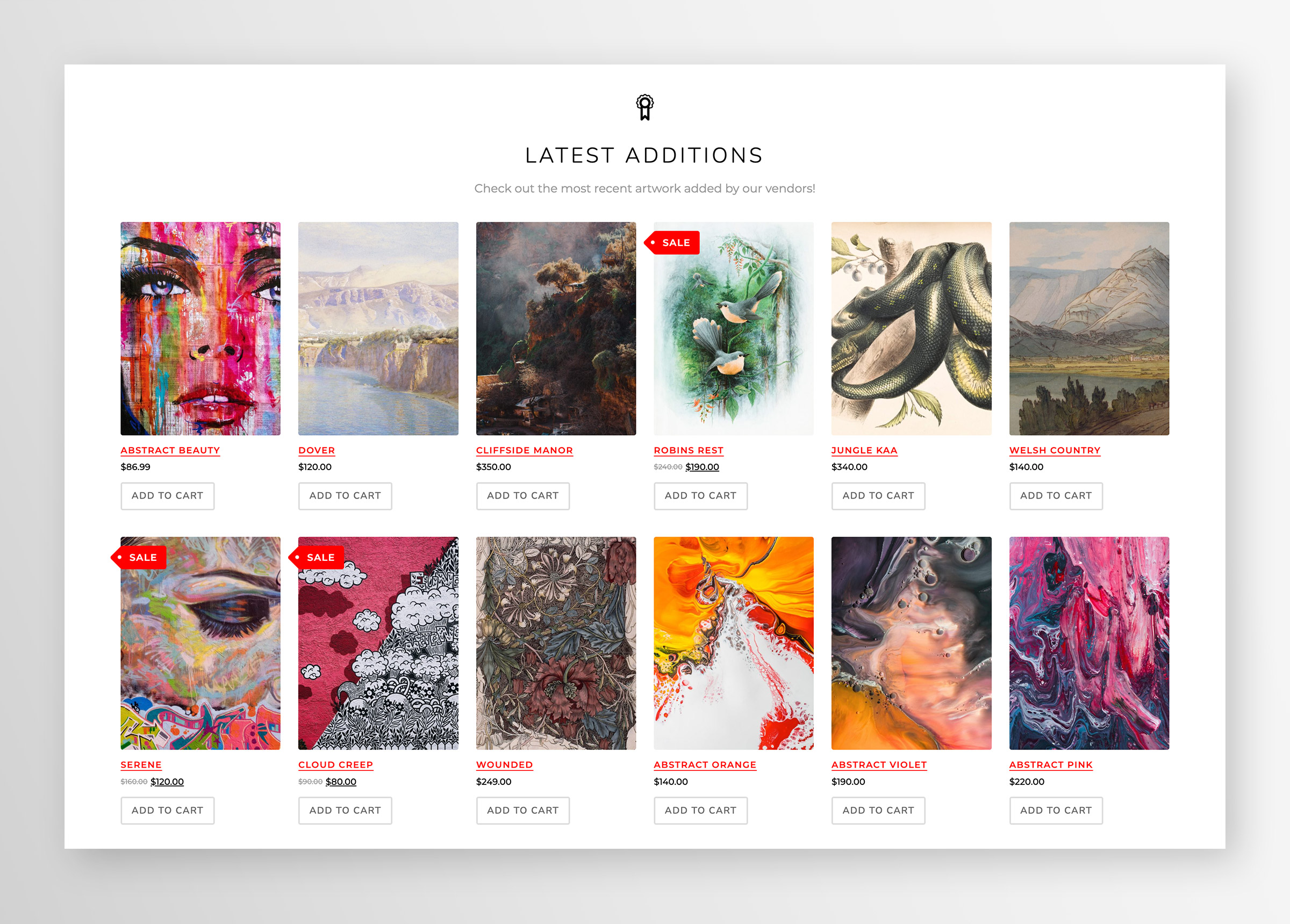 Dokan Multi-Vendor Support
Unlock the potential of your online marketplace with Rialto's seamless Dokan multi-vendor integration. Empower entrepreneurs and small businesses to create their very own stores and sell unique products, crafting an Etsy-style ecosystem of diverse offerings. With Rialto, you're not just building a website; you're cultivating a thriving, interconnected community where every vendor's success contributes to the growth of your very own vibrant, digital bazaar.
Not interested in multi-vendor functionality? No problem! Rialto's versatility allows you to effortlessly create a stunning, single-vendor WooCommerce store without sacrificing any of its eye-catching design elements. The theme's modern aesthetics and user-friendly interface ensure that your e-commerce site stands out from the crowd, delivering a remarkable shopping experience for your customers.
Responsive Mobile Design
Rialto's responsive mobile layout ensures that your online store looks stunning and functions seamlessly on any device, be it a smartphone, tablet, or desktop. Designed with today's fast-paced, mobile-first world in mind, Rialto guarantees an optimized and user-friendly browsing experience for your customers, no matter where they are.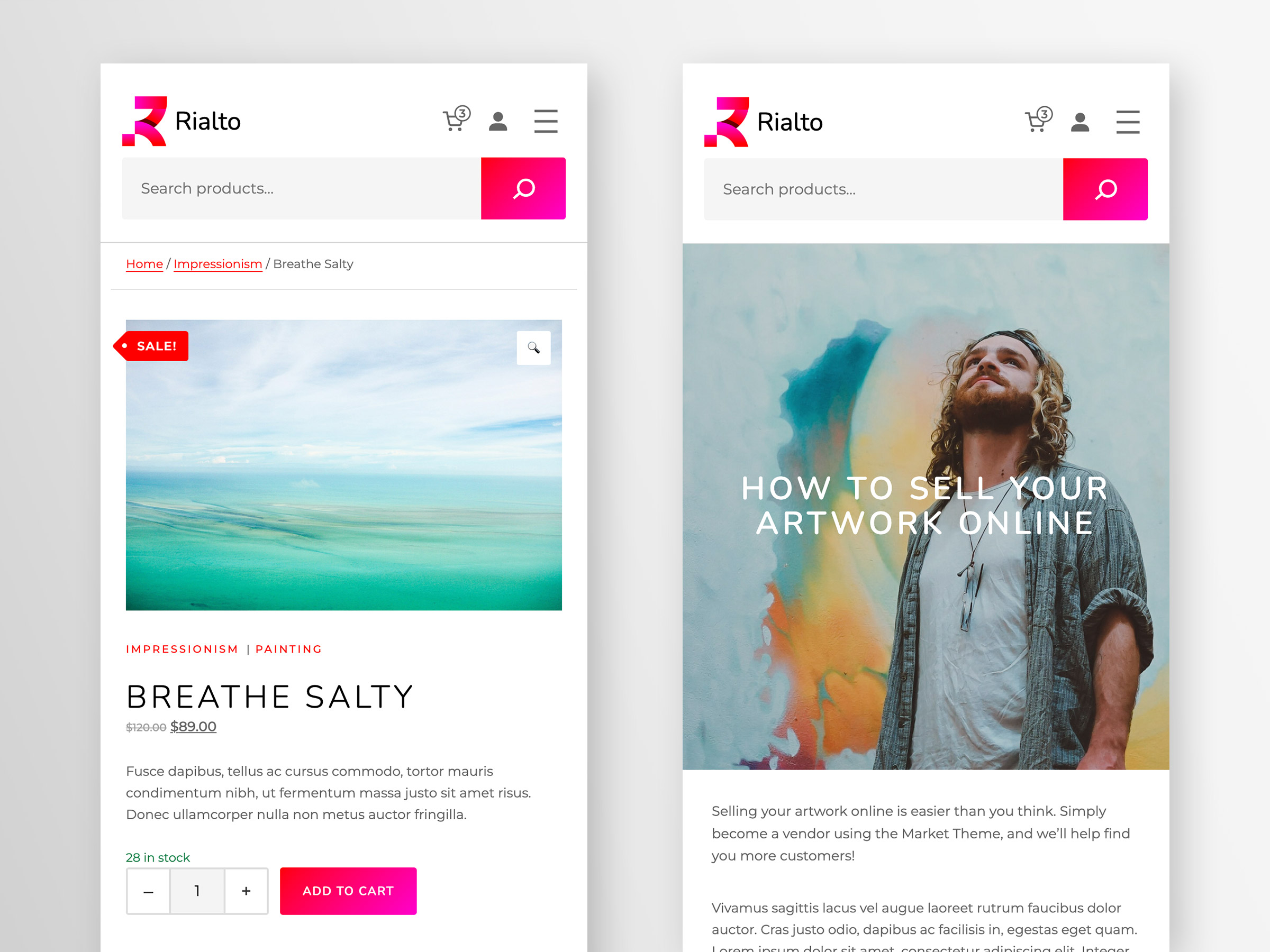 20 Premium Blocks
Rialto features 20 premium blocks that allow you to display unique and engaging content on your website. Provided by the powerful Organic Blocks plugin, these blocks include content sliders, testimonial sliders, portfolios, pop-ups, pricing tables, toggles, and much more.
With our premium blocks, you can easily add interactive and visually stunning elements to your website, making it stand out from the crowd. Our blocks are designed to be easy to use and highly customizable, so you can create the perfect look and feel for your website without any coding skills.
Setup and Installation
Getting started with the Rialto theme is super simple thanks to our setup wizard. With just a few clicks, our wizard will install all the necessary plugins and demo content so your site appears exactly like the demo.
This means you can get up and running quickly without any technical knowledge, allowing you to focus on creating content and customizing your site to your liking. Our demo content is designed to showcase the full potential of our theme, giving you a head start on creating a stunning website.
Documentation
Have a question about this theme?Pick this design and start a site with us, we can help!